There is a scene in the movie Amélie that I like a lot – it's one of my favorite movie scenes ever, I think. It's that part where she is baking in her lovely, candy-colored kitchen and she imagines him in her flat. She cries over her batter and watches her cat walk through her apartment.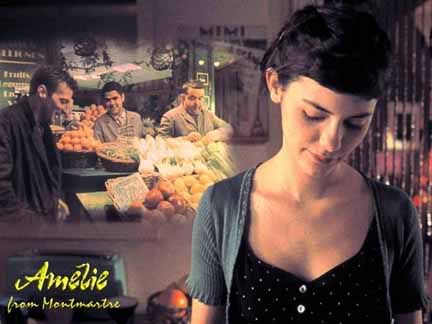 Friday night I made pizza, Saturday I spent almost the whole afternoon making Danish pastry, and tonight I started preparing the dough for tomorrow's breakfast brioches. Instead of my usual baking soundtrack (consisting of – but not only: Ashlee Simpson, Elton John, Cranberries and the Buzzcocks), today I went for something softer but just as fitting for a baking session: the Amélie soundtrack by Yann Tiersen. And halfway through the playlist, Comptine D'Un Autre Été: L'Après-Midi came up, and all of a sudden (with my head full of things, my cat meowing and my dough being prepared) I really felt like I was in that movie. The strangest feeling. Maybe also because I was tired, a little disappointed, and I could feel rain coming.
Anyway, I've discovered two very cute websites earlier; I am a sucker for food photography, and both girls who write these two great food blogs take beautiful photos of their amazing yummy cakes, pastries, and dishes. There are actually A LOT of food blogs out there, but Vegan YumYum and La Ciliegina Sulla Torta took a hold of my heart somehow. Maybe because the first is, as the name obviously implies, a collection of vegan recipes – I appreciate finding alternative recipes where no animal products are used, because I have/had a lot of vegan friends and got into vegan baking though it's much harder to make certain things, especially when they rely on the very special texture of eggs – and the second, well, it's all in italian and has, among others, some traditional italian recipes. The stuff I should have learned from my grandmothers, but never did because neither of them ever did much baking. Sadly.