This month's theme for the monthly mixtape was very open to interpretations and offered a lot of possibilities. We had to pick a photograph we liked from the public flickr stream and base our theme on what the photo reminded us of. I have to admit I refreshed the page many times until I had found a photo that really inspired me, taken by ornellaswouldgo (who, by the way, seems to have some gorgeous photos up. check them out.)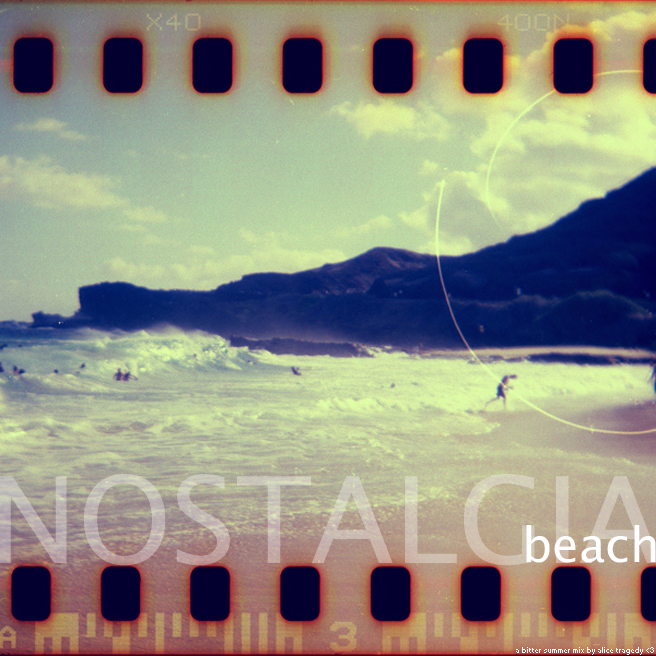 The photograph is an analog shot, taken with a Holga medium format (I think). The colors are faded, like old family pictures, and the silhouettes of people are too far away to guess when the photo was taken.
There is something a little nostalgic about this image, even though it was taken in summer (usually, to me, winter evokes nostalgia and sadness more), which is a time when people are usually more likely to be happy and/or carefree. Cliché, I know. In any case, because of the many associations I got when looking at this image, I decided to make a summer-y mix, but with some slight bitterness or cynicism in the background. Looking back at past summers missing what we had, but also looking ahead and enjoying the moment.
Tracklist
1. Ben Kweller: Sundress
2. Margot & the Nuclear So and So's: The Ocean (is bleeding salt)
3. Monta: Summer Hits Back
4. The Cloud Room: Sunlight Song
5. Death Cab for Cutie: Summer Skin
6. Matt Costa: Sunshine
7. Starlet: When Sun Falls on my Feet
8. Coconut Records: West Coast
9. The Ataris: Summer '79
10. Shed Seven: Dolphin
11. Weezer: Island in the Sun
12. Don Henley: The Boys of Summer
13. Emiliana Torrini: Unemployed in Summertime
14. Yellowcard: Ocean Avenue
15. Lostprophets: Last Summer
16. Violent Femmes: Blister in the Sun
17. The Teenagers: Sunset Beach
Download the mix here. don't forget to support artists if you like their music. go to the shows! buy their records! (ben kweller is touring at the moment, by the way)